description of the Lotus Elise from a brochure
Born from the uncompromising ability to lead, to deliver outstanding innovation, excellence in engineering, and revolutionary style.
At it's heart, new thinking, new approaches, new materials. A new ideal.
The aim, simplicity itself - To capture the pure excitement of driving.
To deliver a new breed. Lighter, quicker, sleeker. To bring a new era of exhilaration, energy and expression. Along with a complete range of options, to give the true individual the ultimate in style and choice.
And the price of such pleasure? Surprisingly, far more affordable then you'd imagine.
The excitement of driving is back and with it comes the pulse of energy you've been waiting for.
The new breed is here. Pure energy, pure expression. Pure Lotus.
Elise.
Lotus Cars Limited
Hethel, Norfolk, England NR14 8EZ
Telephone:  +44 1953 608000.
from sales brochure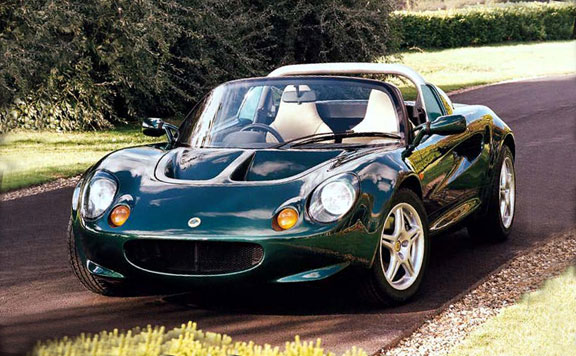 "We set clear objective in the briefing of our engineers and designers: it was essential to create a new Lotus which reflected the genius of Colin Chapman. It must be light, efficient and fast. With Elise, Lotus has once again set new standards for handling, performance, and style, with a unique blend of classic and forward thinking features. it is a real winner, ahead of its time, in true Lotus Tradition.
"Naturally, Elise features the latest thinking in styling, aerodynamics and ride, yet it is a true Lotus. Its ultra-light design is intended to meet all world-wide requirements for safety, comfort and emission and noise control. Its stunning lines have been penned by our in-house stylists who have justly earned respect as world leaders.
"The appeal of this model is not limited to aesthetics. Throughout the project I have been delight by the lotus engineers' dedication and innovation in achieving a lightweight vehicle.. They have applied simplicity and purity of design with technologies of the future such as extrusions in a bonded aluminum chassis and components. The power train has class leading low weight and options including a full race version are planned.
"The result is an advanced race bred high-performance sports car with distinctive new styling which delivers the most fun on four wheels. In short, it is a winner for Lotus, which was created not only with great expertise but also with great passion. It is for this reason I chose to name it after the great love of my life who came into this world at the same time, my grand daughter....Elise."
Romano Artioli
photo by Charlie Magee
---
Elise contents:
---
Lotus reMarque newsletter announces the approval of a Federalized Elise
---
"To this day, I have Japanese car executives coming up to me and saying, "Tell me, Mr. Lutz, exactly what market research led you to build the Viper? That research must certainly have been quite in-depth." My response: "We didn't do any research at all — we just did it!"

Bob Lutz, now with General Motors, trying to change its culture.
---